Located in the heart of Route 62, we are situated in the picturesque town of Barrydale. One kilometer from fantastic eateries and activities. We are a working farm with onion and carrot seeds as current crops. Come explore, hike, cycle, run and swim in our dams.
We have four beautiful self-catering cottages on the farm. Each decorated and designed to bring you the ultimate boutique farm experience.
Our boutique cottages; Ansie, Betsie, Corlie and Donsie, are named after milk cows. Back when the farm was still a working dairy farm, owner Bertus Cooke's father gave a name to each and every cow, in alphabetical order. Bertus has proudly continued this tradition when naming the cottages.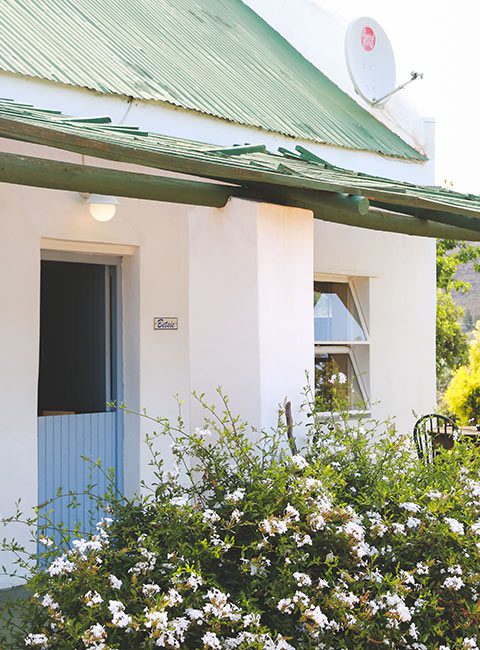 Blue Cow Barn Boutique Farm Accommodation
Klein Karoo Hospitality On A Working Farm
The Blue Cow Barn – Boutique Farm Accommodation is located on the beautiful Cooke family farm, which is visible from the road as you enter Barrydale on the R62 and offers exclusive boutique farm-style accommodation. Just follow the signs and visit the Blue Cow at the Barrydale Waterfront Coffee Shop, they will direct you.

---
1894
COOKE FARM FOUNDED
Meet Our Leading Ladies
BOUTIQUE FARM COTTAGES
Blue Cow Coffee Shop @ Barrydale Waterfront
In 2005, Hannette Cooke started this Barrydale institution overlooking the Cooke farm
At this cosy spot you will find the most delicious coffee, cakes, breakfast and lunches. Well-known for their chicken cheesecake, all Hannette's food is made with love.

---
Only 1 kilometre from Barrydale town centre
We have blue and white sign boards around town, just follow them to our little piece of heaven.

---
Sleeps 10 comfortably
In total, our cottages can host 12 people in our 4 different boutique farm cottages.

---
Bird-watching paradise
The Blue Cow Coffee Shop is regularly visited by an array of beautiful birds - a true paradise